History of TEA
Emerson Taylor, an immigrant from America originally built his first house on TEA's property between 1875 and 1878.
Taylor owned a sawmill, a knitting mill, and a business that produced wood furniture and clocks. He was also a local Magistrate and Justice-of-the-Peace and donated land for a Church which still exists right beside TEA. Now a United Church, it is one of the area's oldest buildings.
TEA's current residence building is also historic. It was known as the Taylor-Froebel House and was built in 1887. Currently the house is being used as the Principal's Office.
Taylor-Froebel House, the Principal's Office
The building that houses the Academy's classrooms and study areas was, until recently, part of the worldwide network of famous Froebel Education Centres.
Friedrich Froebel was a German teacher who believed that quality education should focus on social and personal growth as well as academic development that reaches beyond the classroom. TEA shares those same values.
The building that TEA occupies was erected in 1990 as The Froebel Education Centre to house their kindergarten (ages 3-7) and grades 3-8 as well as the Froebel Institute for teacher training. Its co-founder and principal Dr. Barbara Corbett, (B.A. -UBC and Ed. D. - U of T.) inspired her staff and students with the philosophy that
" Knowing the known is only one third of education ... . The student who is able to think and to explore and discover the unknown, develops into a person who can lead us into the future. "
The Froebel Foundation has made a generous gift to establish the Friedrich Froebel Early Childhood Education Scholarship for graduate students in OISE's Child Study and Education Program. "We are so grateful to the Froebel Foundation for their generosity and commitment to continue the legacy of Dr. Corbett's work," said OISE Dean Glen Jones, University of Toronto.
We at TEA support that philosophy. We are certain that our unique location in Erindale and its natural surroundings allow us to meet those same goals both inside and outside the classroom.
AREA AMENITIES
University of Toronto Mississauga Campus

Located just moments north of TEA, you can discover the beautiful park-like campus of U of T Mississauga. Offering 148 different courses and 89 areas of study, you can get a world class education at this highly respected academic institution.
Erindale Park

Located just steps TEA, Erindale Park is Mississauga's largest park, boasting over 220 acres of lush parkland. The Credit River runs through this peaceful greenspace, which features numerous picnic areas, a playground, toboggan hill, amazing hiking on Cullham Trail and other walking trails, fishing, canoeing and more.
Heritage Architecture

Erindale Village is still home to many spectacular heritage buildings dating back as early as 1828. One of the finest highlights is The Grange, located at 1921 Dundas St. W. Also known as the Robinson Adamson house, The Grange is now home to Heritage Mississauga, and is a breathtaking example of early Canadian architecture. Another notable heritage site is that of St. Peter's Anglican Church. Erected in 1887, you won't want to miss this stunning structure of true artisanal mastery. If you'd like to learn more about heritage buildings in Erindale Village, you can view The Heritage Walking Tour Guide at Heritage Mississauga and discover a number of noteworthy heritage sites that are just waiting to be explored!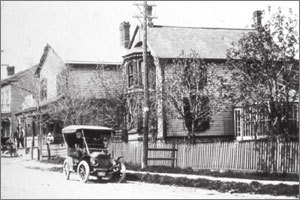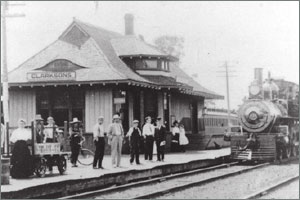 Credit Valley Golf and Country Club
Located just moments east of TEA, Credit Valley Golf and Country Club combines breathtaking scenery with a consistently challenging parkland design that combines tight fairways with large and fast, undulating greens. A challenging course and superlative facilities have combined to make Credit Valley one of the Province's finest golf clubs. Credit Valley traces its golfing beginning back to 1930.
Amazing Shopping & Restaurants
Central Mississauga boasts some of the best selection of shopping and dining destinations in the country. Choose from a virtually endless selection of international cuisine along Dundas Street, explore the high end shops and boutiques of Erin Mills Town Centre just north, or find all of life's necessities at any number of shops and plazas just a short bus ride from TEA.