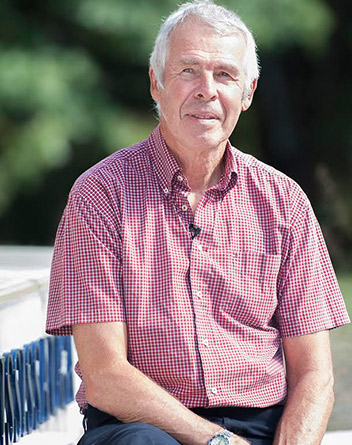 George Vanderkuur, Director of Education
"It is my pleasure to be a part of The Erindale Academy family. TEA's educational philosophy is one that I helped to shape and one that I deeply believe will help elevate the level and quality of the education that our students receive.
By individualizing each student's learning plan and providing them with a positive, safe, and challenging environment, we enable our students to think outside the box and develop the necessary skills they need to succeed in the future, whether at university or in their future career.
Here is where our wonderful faculty and staff really shine. We have gathered a group of truly talented and dedicated OCT educators, and passionate and experienced staff who are able educate, empower, and encourage while providing the right kinds of targeted guidance that our students need. What makes our faculty and staff unique is that they do not wait for the student to come to them; through closely monitoring our students' academic performance and behaviours and meeting with our students regularly, our educators and staff work together to solve problems and offer help as soon as possible. And they do this without compromising the student's independence and ability to work things out for themselves. TEA is a place where students are able to discover, develop, and perfect their abilities while growing as successful members of our society. Welcome to The Erindale Academy!"
George Vanderkuur has more than 30 years of rich experience in teaching, education consultation, and education management. He has a distinguished reputation and many exceptional qualifications in education in Ontario. In the past, George was the Headmaster (Principal) of the Holy Trinity School and a Curriculum Consultant for the Toronto District School Board. He was also a Chief Scientist at the Ontario Science Centre and later, an Associate Director. He was also the President of the Royal Canadian Institute for the Advancement of Science. In 2002 He received the Queen Elizabeth II Golden Jubilee Medal and in 2010 became a member of the Old Brigade of the Royal Military College.
Tam Huynh,
Principal
"The Erindale Academy's philosophy is that a complete education must start with understanding each student's strengths, weaknesses, and interests. Only then can we truly provide them the guidance necessary for them to overcome obstacles and find success. Our mission is to teach our students more than the curriculum; we strive to teach them skills that they will use for the rest of their lives. We do this by fostering a positive learning environment where we can empower our students, develop their social competencies, and raise the standard of excellence.
At TEA this is made possible through having a faculty of experienced, dedicated, and passionate educators who are invested in helping our students be the best they can be. These individuals, who come from a diversity of educational backgrounds, use their creativity, enthusiasm, and energy everyday to bring our classrooms to life. In addition, our location makes us truly unique. Minutes from the Erindale Park and the University of Toronto Mississauga, our students have the perfect place and motivation to work hard and achieve their dreams.
Here at The Erindale Academy, every student matters and our mission is to ensure each student leaves with an educational experience unmatched by any other."
Tam is passionate about the The Erindale Academy Program because it is designed to help student reach their full potential in a positive and extremely motivational way. She is an Ontario Certified Teacher specializing in Math and Science for juniors and senior students. She has completed BSc from York University and a BEd from Nipissing University. Tam works towards enhancing her students'€ understanding by adapting to their unique learning styles.